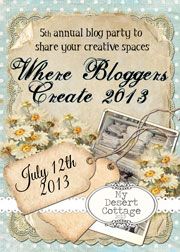 I came across 'Where Bloggers Create 2013'by Karen Valentine on
My Desert Cottage
and seeing as how I had just had a complete studio make-over I decided to join in.
My space is not large.. in fact, after the 'loo its the smallest room of the house and I literally couldnt swing cat in there, but its big enough for what I need (thats not to say I wouldnt fill a bigger space given the opportunity lol) .. but its my little haven...
Don't even THINK about trying to swing me!
I had blogged about the initial make-over in
this post
but have added a couple of new units and tweaked since then.
Studio Door
I love the cube system, its easily re-configured and the fabric baskets hold a lot, neatly, and out of site
View as you walk in
Pillow in the corner near drawers is where the doggie sits while I am working :-)
I have added the two three high, two wide, cube units either side of the table. The left side of my desk is the paper side, jars of embellishments... cubes and drawers hold paper stuff, on the right side is the jewellery side.. fabric baskets hold chains (in individual ziplock bags), solder supplies, and tools, jars of beads etc where I sit depends on what I am doing. I moved all the messy stuff, along with the books into the wardrobe.
Messy, untidy stuff lol
Books and my Somerset Studio mags etc inside the built in robes
looking down the room with bookcases at my back
Fabric baskets hold chipboard, rub-ons and laces. Oval tin holds little pads of 6x6 papers.
The glass bowl on the end table holds sand and shells that I have collected over a time from various beaches.
houses.. love little houses ... these are from swaps I took part in
Brushes sit on the desk in an assortment of tins, jar and jug
Lazy susan with painted and decorated cans holding brushes and pens.. glass jar decorated with lace holds pearl buttons. Little silver tins are from the Finnebar class and hold some of her goodies.
Table unit holds lots of stuff I use often.
Alcove behind my chair holds Kaisercraft wood drawers and cupboard, TV (music videos while I work) and drawers hold papers.

This is the first time I have joined the party.. and look forward to it again next year:-)

well, thats my space.. look forward to comments and seeing everyone else's :)